Aedan is Kristen's 11-year-old son. He has known that his mom has depression for the past three years – ever since a particularly bad episode almost ended her in the hospital. Since then, he has had multiple discussions with both his mom and his dad about mental illness. His dad interviewed him recently about his thoughts on mental illness for this video.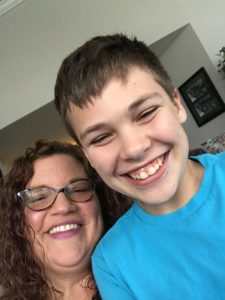 My Mom Has Depression
Kristen has written about her relationship with Aedan before and how mental illness plays a role. Read Kristen's letter to Aedan about her depression.
Resources for talking to kids about mental illness
Talking to Kids About Mental Illness – American Academy of Child & Adolescent Psychiatry
Should You Tell Your Kids About Your Mental Illness – PsychCentral
How to Talk to Kids and Teens About Mental Illness – U.S. News & World Report